The top ten of the draft is where all of the marquee big-name players get drafted. Some will slip in the draft, but for the most part, this is where you will see the biggest names heard on Saturdays get drafted. Most of these guys go to big-name schools and were blue-chip recruits, but every now and then a small school / low rated recruit finds their way into the top ten. Usually, top ten picks are high-level starters, but nothing is guaranteed in PML.
6. Cleveland Browns
Bacon's pick: Nolan Smith, Edge Rusher, Georgia
Reuniting with a former player from last year, HD drafts an athletic freak to rush the passer opposite Myles Garrett. This defense was on the field more than any team in the league thanks to a league-high 63 interceptions by Baker Mayfield, and they struggled because of it. The Browns have young talent on the defensive side of the ball but need to put everything together if they want to contend for the division moving forward. Putting pressure on the quarterback is key to playing strong defense, and the Browns struggled mightily to do so outside of Myles Garrett. Lacking another threat up front allowed opponents to double team Garrett on every single snap, making life tougher on him. Adding an unproven rookie opposite the veteran won't take attention away from him immediately, but it gives this team a very good option that will see single blocking on most plays. If he can consistently beat blocks by NFL offensive linemen, this defense will take a huge step forward. 
Smith is a uniquely talented defender who is capable of playing off-ball linebacker or edge rusher. He excels rushing the passer but can do anything HD asks of him if the situation calls for it. With freak measurables, he is going to be one of the fastest and most athletic players in the league from day one. Though he is more of a project than Thibodeaux, he has potential as high as anyone else. If the Browns send him to training camp and consistently pour resources into his development, Nolan Smith can become a premier edge rusher in PML.
Greens pick: Kayvon Thibodeaux, Defensive End, Oregon
The Browns have a very talented roster with key pieces across many of the skill positions. They also have one of the better Ends in football in Myles Garret, but the one thing you can't have enough of in this league is pass rushers. The Browns will form arguably the best 1-2 punch in football with the selection of Kayvon. He is a physical presence at 6'5 260 lbs, but he has elite edge rush speed. Expecting to run a sub 4.65 40 at the combine, you would expect him to rely solely on his speed but he has amazing bull rush techniques as well. With teams having to double Garrett, Kayvon May be able to have quick success and find himself in the defensive rookie of the year race.
7. Denver Broncos
Bacon's pick: Jackson Carman, Offensive Tackle, Clemson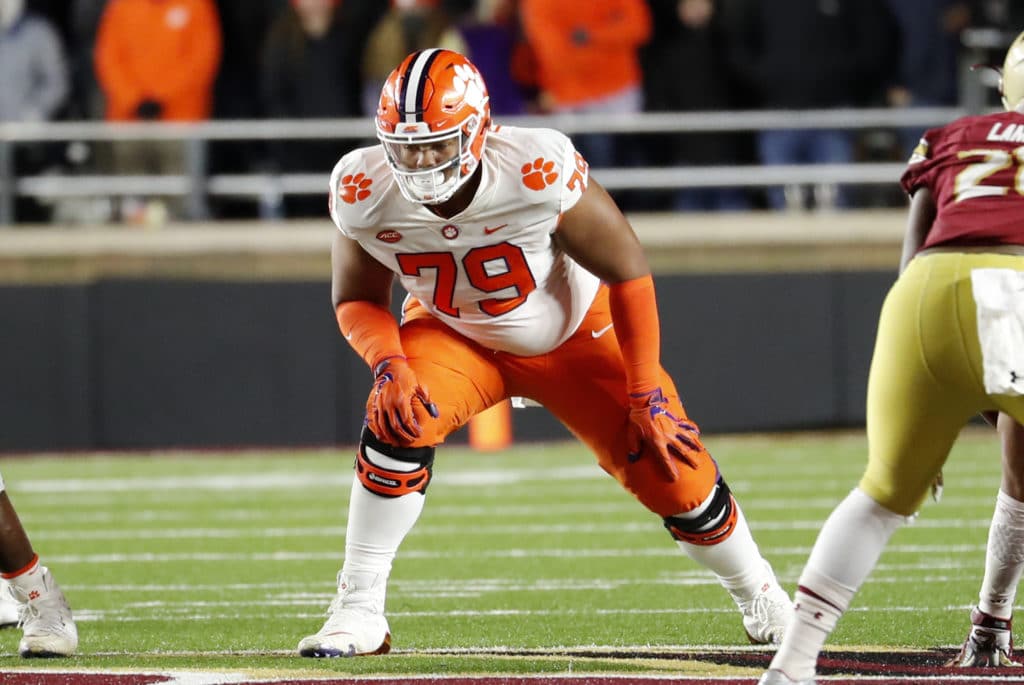 Despite uncovering the greatest quarterback of all time in Tanner Morgan, the Broncos finished 28th in points and yards per game. Their leading rusher finished with 826 yards, and they failed to build any consistency on offense, finishing with the second-worst rushing offense in the league. The Broncos actually don't have the worst offensive line, but they could use some improvements. Jawuan James is on the wrong side of 30 and Denver is in need of new youth on the line. They already have one of the best offensive line prospects in recent memory in Penei Sewell playing left tackle, so why not add another talented tackle in the draft? This move would allow them to move Jawaan Taylor to guard and Dalton Risner to center. With this pick, the Broncos would actually have one of the better young lines in the league that will only get better with time and cost the team a fraction of what other teams are paying for talent in the trenches. Games are won and lost up front in PML, and if you want to excel, you need to be the best you can in that aspect. Scouting and developing offensive linemen is one of the most difficult things to do when it comes to team building, but is also one of the most rewarding. There are few things better than having an offensive line all on rookie contracts. 
Greens pick: Nolan Smith, Outside Linebacker, Georgia
The Broncos made a mid season trade to send Von Miller packing, and here is where they grab his replacement. Nolan brings elite Speed, quickness, and the ability to bend around the edge while also flashing surprising strength and power while playing with leverage. Has shown a willingness to be more than just a speed rusher and exhibits coachability that will be needed to fine tune his game. He lacks ideal size and length for the position but his first step quickness makes up for that. While in High School he ran a 4.53 40 which would make many high school skill position players jealous. Speed is something you just can't teach, and as he continues to refine his rush moves he can be an absolute nightmare for opposing offenses. The Broncos will hope he can team up with Bradley Chubb and get to the elite quarterbacks in their division.
8. Carolina Panthers
Bacon's pick:
Evan Neal, Offensive Tackle, Alabama
Honestly, I didn't even realize Neal was still on the board at this point. He is the best offensive lineman in this class, and I would be very surprised if he falls this low in the draft. The Panthers have a good, not great offensive line that could be improved. After bringing in top young talent in the past few years in Justin Fields and Najee Harris, it's time to make a less glamorous pick. Carolina Head Coach JT understands the importance of dominating the trenches. If they can be elite up front, they are going to benefit their young stars. Better blocking up front makes the entire offense look better. This pick would allow them to slide Greg Little to guard or even put Neal at that spot if they think he's a better fit. Either of those two players has the versatility to play any position along the line. This team loves to run the ball more than anybody, making this draft pick more valuable than it would be for almost any other team in the league. 
An athletic phenom, Evan Neal is one of the most physically imposing presences in this draft class. At 6'7" 360 pounds, he is capable of bulldozing any defender in the league. You're never going to need to worry about him being smaller than the man lined up in front of him. Click here for an impressive video of him doing plyometrics at his size. Despite being one of the largest players in this class, he actually moves very well. He is quick enough to keep speedy edge rushers from getting to the quarterback and strong enough to never get bull rushed. The Panthers are trending towards passing more than they used to, and Evan Neal's versatility as a blocker will help them open up this offense even more. Carolina is slowly but surely building one of the best offenses on paper.
Greens pick: Nick Broeker, Offensive Tackle, Ole Miss
The Panthers found their franchise Quarterback in last year's draft, and now find the anchor to keep him upright in Broeker. Teams generally like to build around their young quarterbacks and the Panthers are already loaded at the running back and wide receiver positions. They can use an upgrade on the line and Broeker can protect Justin Fields for years. He is a mountain of a man standing 6'6 and weighing 295 lbs. He is an excellent drive blocker whose leg strength allows him to move defenders and finish blocks. In pass protection, he has the athleticism to deal with speed rushers. He will need to continue to work on his footwork though he is very athletic for the position. Before adding weight in college he occasionally played tight end as well, which goes to show he moves well for his size. 
9. Arizona Cardinals
Bacon's pick: Owen Pappoe, Outside Linebacker, Auburn
Arizona had the worst rushing defense in the league last season while also boasting the third-best passing defense. I'm not sure if that's ever been done. This defense needs to match the versatility and talent in their secondary with their front seven. They have some capable run stoppers and edge rushers but only have three linebackers on the roster at the moment, only one of which has greater than 80 block shedding. A defense can have the best defensive line in the league, but they can be neutralized if there are no linebackers behind them to clean up plays and make tackles when the line makes openings for them. Jarrad Davis and Haason Reddick are solid linebackers, but neither of them should stop you from drafting a better linebacker. On a team that focuses on controlling the clock and running the ball, this defense needs to be able to get quick stops and allow their offense to put points on the board. Linebackers are key to making plays, and Pappoe is the definition of a playmaker.
Continuing on their recent trend of drafting elite athletes with positional versatility, the Cardinals add likely the most athletic linebacker in this class. Though he is built more like a big safety, he is a true linebacker. Capable of playing in space or rushing the passer, he can be moved around in different situations. If the Cardinals want to use him as their dime linebacker and allow him to make coverage plays on passing downs, he can do it. If they want him to use his athleticism to get to the quarterback on a passing down, he can do that too. Want him to pursue the ball carrier and make a tackle on 4th and 1? He's got it. Pappoe is a swiss army knife on defense who gives this team even more options. Imagine him playing alongside the likes of Budda Baker and Isaiah Simmons. Opposing defenses would have nightmares game planning for this Arizona defense, and the Cardinals could confuse their opponents with alignment and matchups.
Greens pick: Tyler Davis, Defensive tackle, Clemson
The Cardinals struggled all year against the run, and it was mainly personnel issues up front. Tyler Davis is just what the doctor ordered. He lacks ideal size but comes with immense power and the ability to play all three downs at the next level. He will be a run stuffer in the middle of a dynamic defense, who can also get to the quarterback. He is quick enough to move around the line and play off the edge, although he will be best served in the middle of the line. This pick will help the Cardinals push for the playoffs.
10. Tampa Bay Buccaneers
Bacon's pick: Jayden Daniels, Quarterback, Arizona State
While Greeny thinks DLloyd has his guy at quarterback, I disagree. I think Mariota is a stopgap player that allowed their offensive to open up the playbook more than a 45-year-old Tom Brady. This team had a top 10 offense in almost every statistic and struggled on defense, but they need to figure out quarterback before they address other issues. Mariota is probably fine for the short term, but I think they should look to the future and find someone to develop. Even if they don't want to throw him into the fire and name him starter as a rookie, the Bucs could draft Jayden Daniels and focus on his development and progression under Marcus Mariota in year one. He may be a bit of a project player, but he has all of the intangibles you look for. If you give any quarterback the weapons Tampa Bay has, they are probably going to do well. Mike Evans, Chris Godwin, and Terrace Marshall might be the best wide receiver trio in PML, not to mention their tight ends and running backs. Whoever lines up under center next season, they are going to be in a favorable situation. 
Running a 4.57 at the Combine, Jayden Daniels is going to come into the league with comparable athleticism to Marcus Mariota. Though he likely won't be on the same level as the former Heisman winner, he makes up for it with his abilities as a passer. Despite his slight build, he has a very strong arm and can sling the ball all over the field. He has proven his ability to win when the lights are bright, highlighted by knocking Justin Herbert led Oregon out of playoff contention as a true freshman. An accurate passer, Daniels is going to be able to make the most of his weapons in Tampa. This would be an exciting pick, making every Buccaneers game must-see TV. You know they are going to score a ton of points but also give up their fair share on defense. If they go this direction, we may see 45-42 thrillers week in and week out, which no one could complain about.
Greens pick: Zach Harrison, Defensive End, Ohio State
The Bucs seem to have found their Qb of the future and have skill positions galore on the roster so here they look to add to a front 7 that is aging a bit. Harrison has world-class speed for the end position and will have veterans around him to help him adjust to the pros. This pick could also go offensive tackle but with Broeker off the board, it makes the Bucs pick easy. Harrison can be used all over the front seven, and the Bucs defensive coordinator is known for his ability to maximize talent from his younger players. Look for Zach to make all 9 teams who passed on him know about it.