Getting closer to the middle of the round, this is where we are going to start seeing teams reach for needs since most of the surefire prospects are gone by this point. Some of these teams were just a few wins away from contending for a playoff spot, while others just sat in the middle tiers. Either way, success in the draft is going to be crucial if these teams want to be picking in the twenties next season.
11. Miami Dolphins
Bacon's pick: Christian Harris, Outside Linebacker, Alabama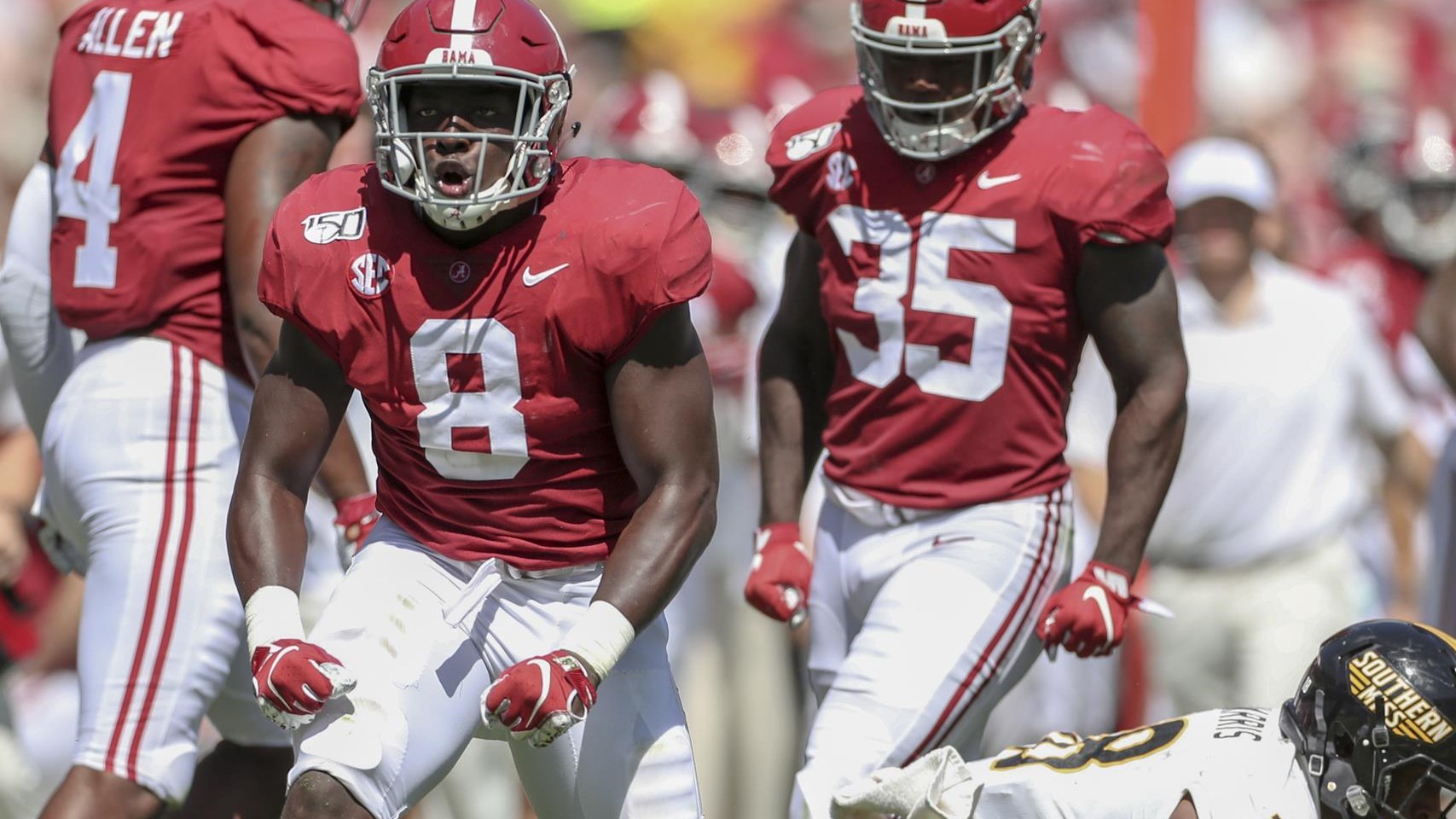 The Dolphins always draft well and I think they'll make the smart move and avoid reaching for a more pressing need. Their edge rusher situation isn't bad, but they could definitely use an infusion of youth. Harris can rush the passer or play as a linebacker in space, allowing the Dolphins to ease him into a role on the edge. If they would rather use him as a mike linebacker to get his feet wet then slowly ease him into an edge rusher that would work. Outside of Jeremiah Owusu-Koramoah, they lacked a consistent pass rusher. They had a handful of guys who got a few sacks but didn't have anyone too reliable. They could use offensive line help or another defensive tackle, but I don't think there are any players who fit at this pick. 
Competing in a division with one of the best passing attacks in the league (Buffalo Bills) and one of the best rushing attacks (New England Patriots), being able to create havoc is going to be vital if Miami wants to return to division title contention. They've built a strong secondary and just need the front seven to match it. Christian Harris is an explosive defender capable of starting on day one. Though it may take some more time to figure out where exactly they want to play him, I think he can be the kind of chess piece that Head Coach Mike wants.
Greens pick: Jackson Carman, Offensive Tackle, Clemson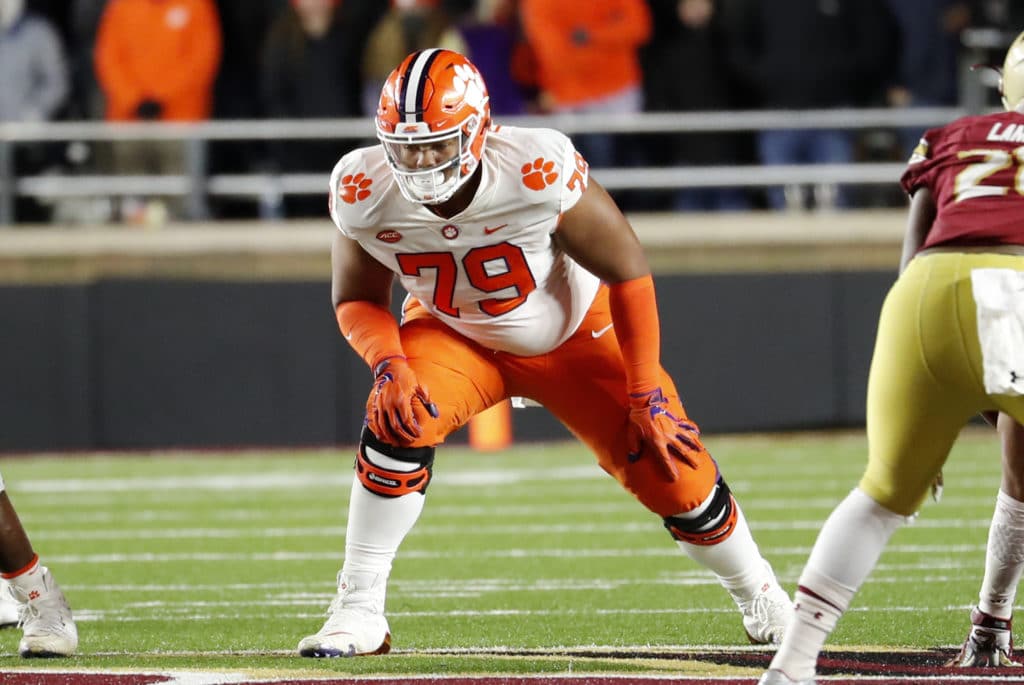 The Dolphins just saw Tua have a season for the ages, and there's one way to ensure that continues to happen and that's by protecting his blindside. The Dolphins have tried to make mid-season trades for linemen, so it makes sense they target that need here in the first round. Some have Carman graded as their top offensive lineman due to his incredible strength and work ethic. At one point in college, Jackson weighed over 370 pounds and looked too sluggish to protect the blind side of Trevor Lawrence. He knew it and worked hard to get down to 335. He is an excellent pass protector but also dominant in the run game which should open holes for Matt Breida. Getting younger at corner is also a need for the team, but Carman is too good to pass up at this spot. He will be a key cog in the wheel that gets the Dolphins back to the AFC playoffs. 
12. Kansas City Chiefs
Bacon's pick: Christian Darrisaw, Offensive Tackle, Virginia Tech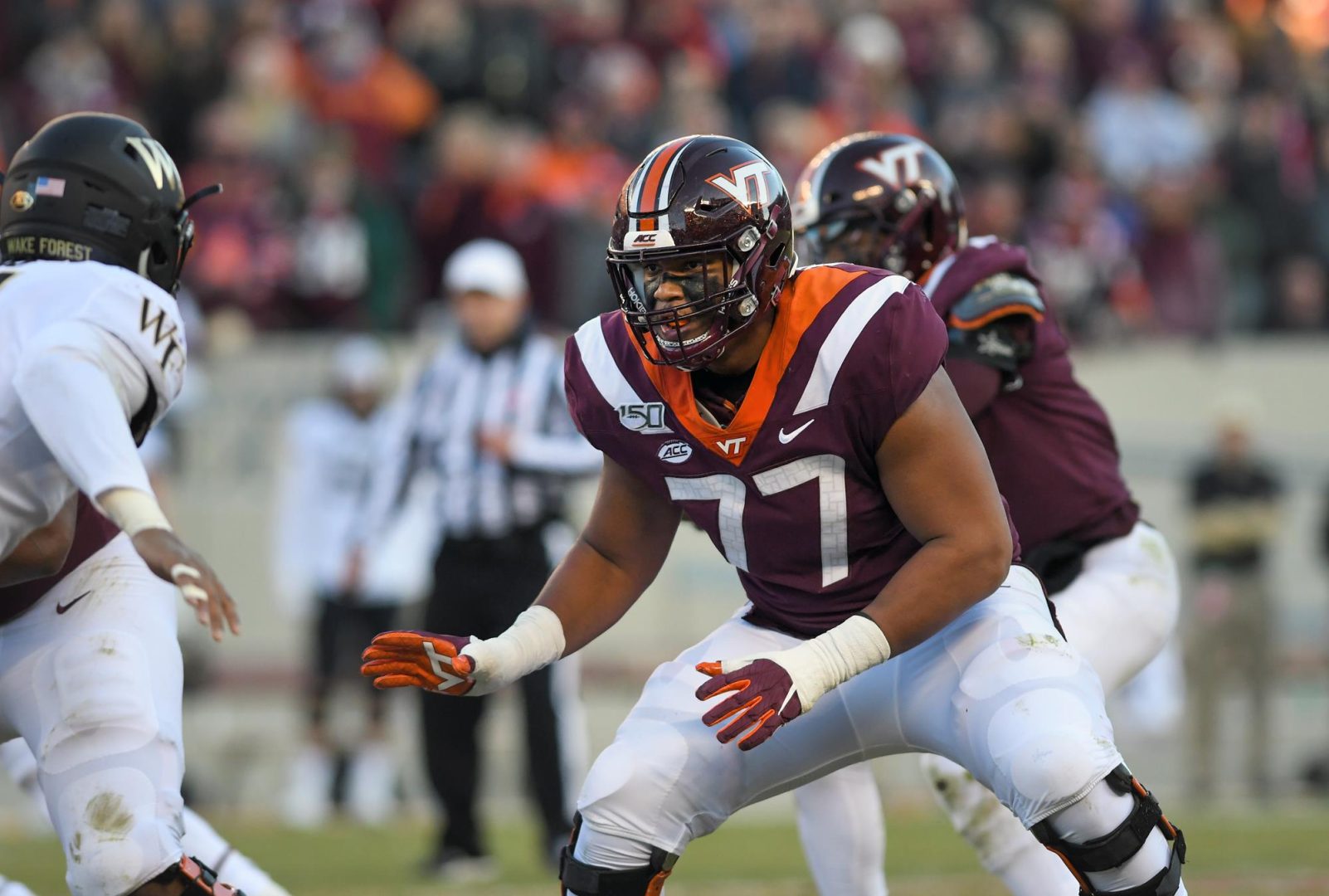 Currently, the Chiefs don't have a left tackle on the roster. If they want to keep Patrick Mahomes alive, that is going to have to change quickly. Outside of an aging Mitchell Schwartz, this offensive line looks pretty rough. Kansas City needs to do a better job of passing the ball, and that is going to start up front. Yes, they have arguably the best quarterback in the league when it comes to making plays out of thin air, but that won't matter if he is seeing free rushers every down. They actually were one of the better teams at running the ball, but need to find more consistency through the air. Simply put, there is no excuse for the Chiefs to not be throwing for 5000 yards and 50 touchdowns year in and year out.
Darrisaw is one of the quickest tackle prospects in this draft class, making him the perfect fit to block for Mahomes, who likes to get out of the pocket and make plays. He will be able to move around and make some unorthodox blocks when the situation calls for it, and keep their expensive quarterback safe. Though he is more of a finesse player rather than a brute strength type of guy, he would fit well in this offense that is predicated on zone run schemes. 
Greens pick: Owen Pappoe, Outside Linebacker, Auburn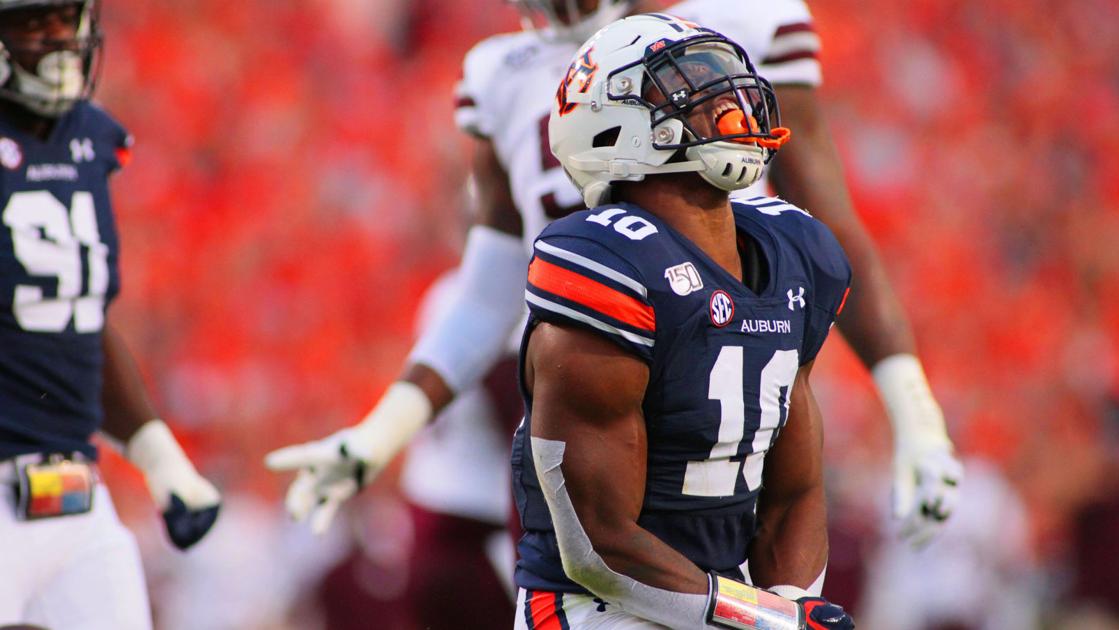 The Chiefs need to get better in the front seven and this is a match made in heaven. Pappoe will step in on day one and make an impact for this team. He is a Twitchy athlete who translates that burst onto the field. Uses his outstanding closing speed to disrupt opposing offenses both as a blitzer and striker in space. Strong at the point of attack with the ability to take on and shed blocks as a run defender. Shows sideline-to-sideline range and is outstanding in defending the flats. The expectations for Pappoe coming in would be to help the run defense while also being a threat to get after the quarterback. There are rumors the Chiefs could be moving on from Tyrann Mathieu so expect them to target defensive back in the next round. 
13. Jacksonville Jaguars
Bacon's pick: Garrett Wilson, Wide Receiver, Ohio State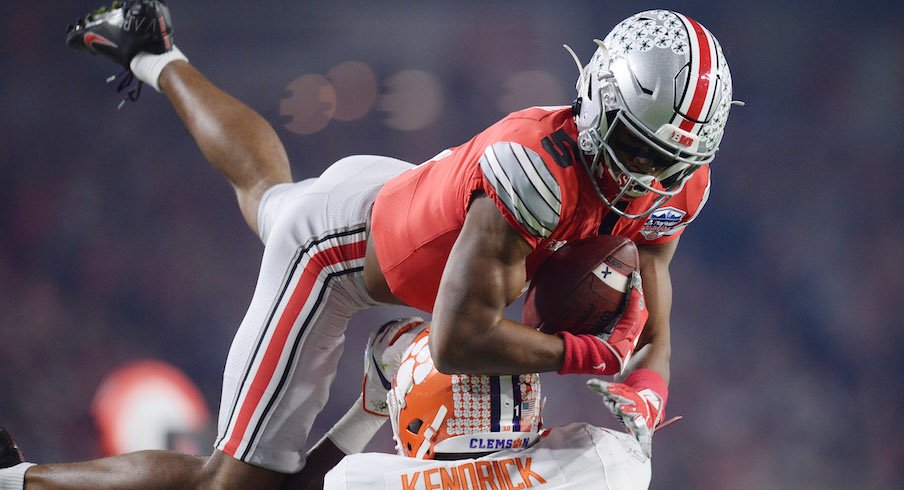 Despite their head coach being an offensive guru, the Jaguars have seen their biggest success come on the defensive side of the ball, ranking in the top half of the league in just about every category. Offensively, they ranked in the bottom five in every category. Last year they brought in college teammates Trevor Lawrence and Travis Etienne, who had solid rookie seasons. However, outside of DJ Chark, they didn't really have any viable receiving options, with no other player surpassing 500 receiving yards. Jacksonville has shown flashes at times and still finished 7-9 last season despite their poor offensive showing, which tells me that they are getting close to where they want to be. Adding another receiving threat is going to be key to opening up this offense and heading in the direction they want to go.
Former Ohio State Buckeye Garrett Wilson has the best highlights of any receiver in this class. Capable of jumping over anyone and making just about any catch you can imagine, he is one of the toughest wide receivers to guard. Coming out of college, he is a very polished route runner with elite hands and body control. He is a do-it-all receiver who would make plays week in and week out with Trevor Lawrence throwing to him. This would be a very good pick, and I see Jaguars Coach Scoopa continuing to invest in the offensive side of the ball.
Greens pick: Christian Harris, Outside Linebacker, Alabama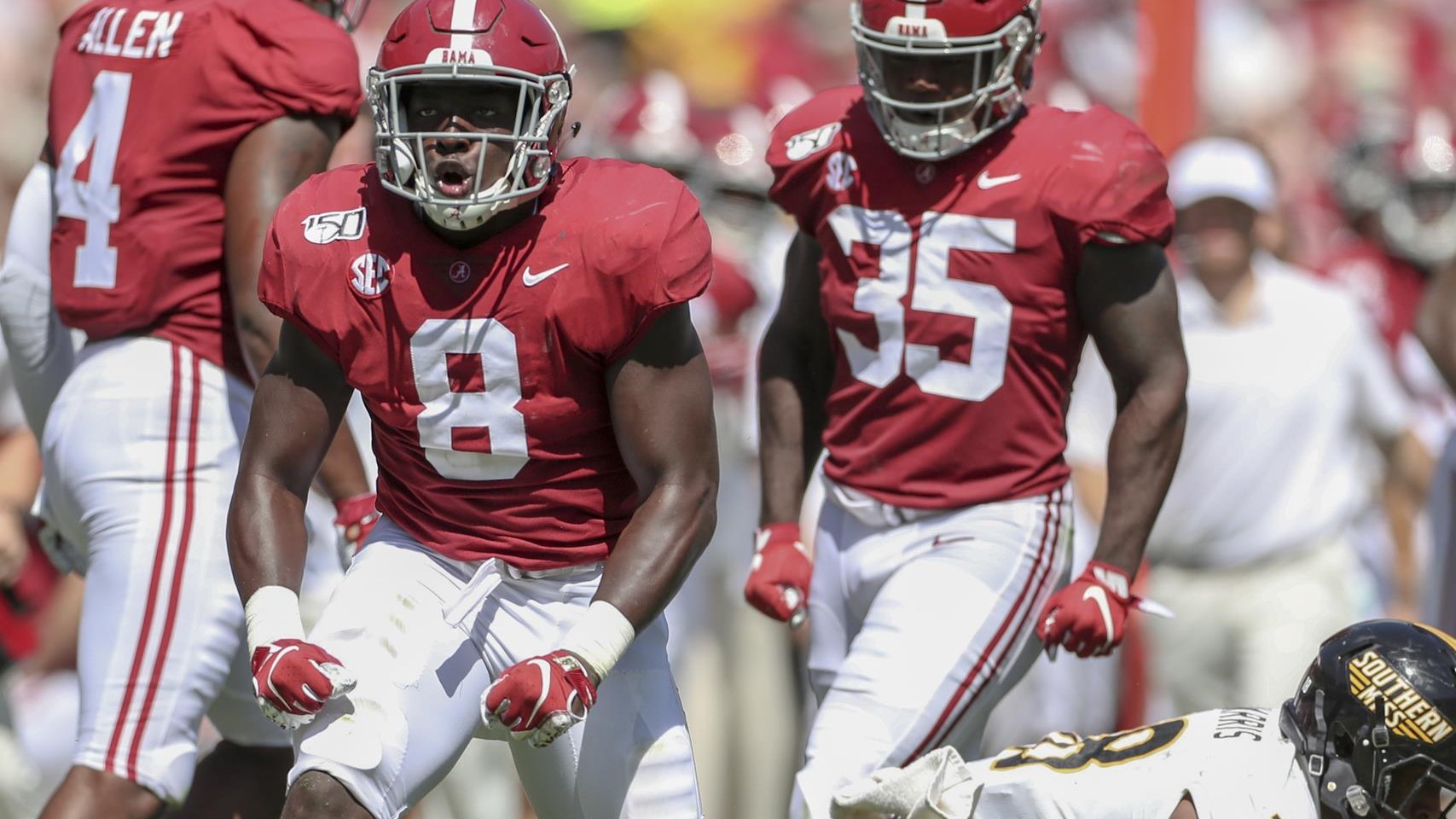 The Jaguars front seven is already stout, and the rich get richer here with Harris. Harris played wide reliever and tight end in high school and has above-average ball skills for a linebacker. He has smooth hips and can turn and run like a safety. For the best program in football, he was routinely asked to play multiple positions all over the field and made a name for himself at each position. He has a thick build and will be solid against the run game as well. He will test very well at the combine but is not just a combine star. He has learned well coming from Alabama and should be an immediate impact for the Jags. The team philosophy shows a lot of man-to-man concepts and having a linebacker who can cover like a safety will be a massive win for the team. The Jaguars struck gold in last year's draft and it will be hard to replicate that, but with this selection here they are off to a great start. 
14. Cincinnati Bengals
Bacon's pick: Tyrique Stevenson, Cornerback, Georgia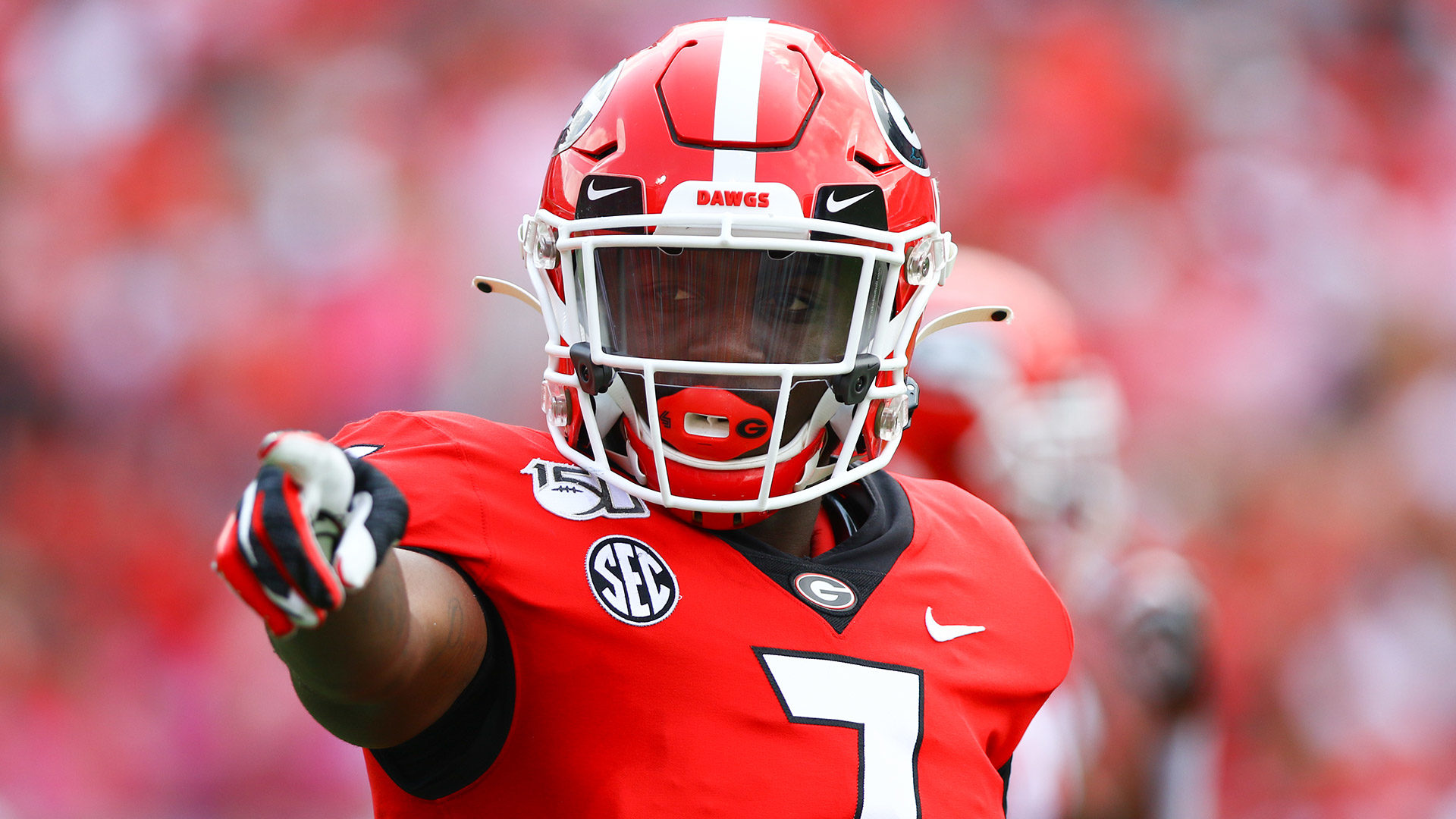 Our first consensus pick of the draft has the Cincinnati Bengals drafting an elite cornerback prospect. A former five-star recruit out of Florida, he is one of the fastest players in this draft class. We know how this team loves speed and he would also fill a major hole on defense after the departure of William Jackson last season. To put it plainly, the Bengals have one of the worst cornerback groups in the league. They have one player over 90 speed and none with any coverage ratings over 80. Despite their barren roster, they actually finished 18th in passing defense last year. To compete with the elite receivers in PML, the Bengals need to add an elite cover man to their defense that will allow them to shadow number one players. He may take a bit of development to get going, but he has all of the physical tools to excel in defense. He would immediately be the tallest and fastest cornerback on the team, and would probably be the best overall player as well. Success in the secondary is vital and Coach ARod knows it. Though he is a gambling man, I believe he will make the safe pick and get an elite defensive back.
Greens pick: Tyrique Stevenson, Defensive Back, Georgia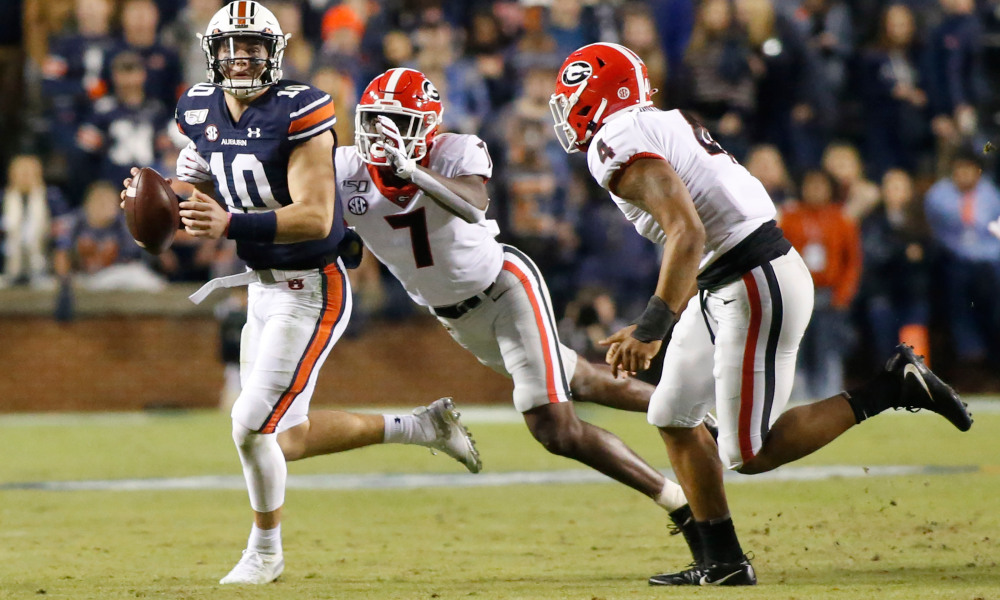 The Bengals signed veterans to help in the passing game last year, but sorely need to upgrade the back half of the defense. The Secondary will be adding a huge piece here in Stevenson. A corner by nature, but can also play safety due to his strength and instincts. He is a willing tackler and excels in press coverage. The Bengals will have a jack of all trades in their secondary with Stevenson. Dynamic with the ball in his hands will excel on interception returns as well as punt and kick returns. His ability to help in many ways is what makes him such a highly coveted prospect. Stevenson is expected to test very well at the combine and should post one of the better 40 times for all defensive backs. In a draft loaded with talent at the position, those who test well will separate themselves from the pack. 
15. Atlanta Falcons
Bacon's pick: Cade Otton, Tight End, Washington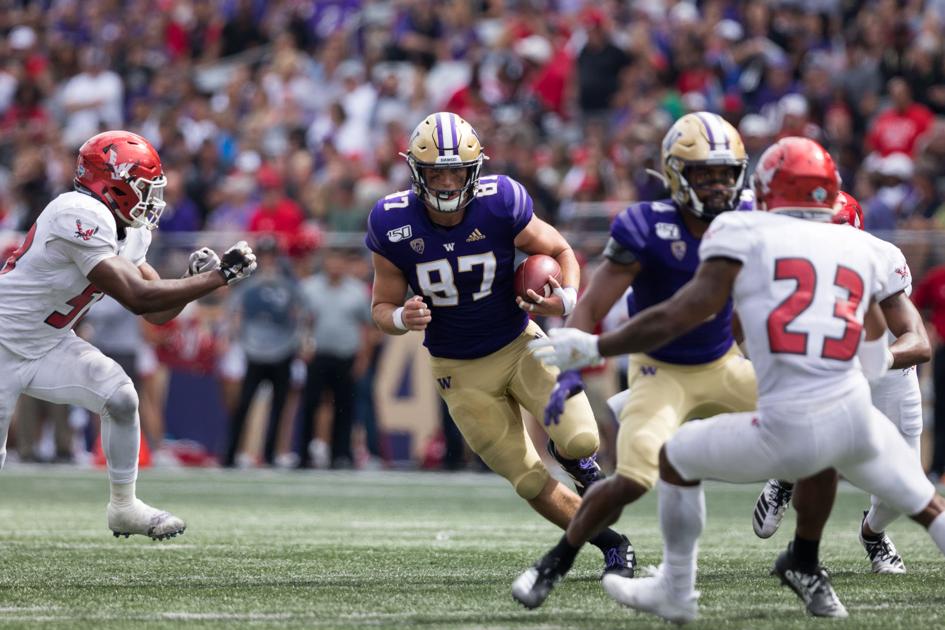 This team needs serious work on the defensive side of the ball, but there aren't really any prospects whose combination of skill and scheme fit really match what the Falcons need. Offensively, Atlanta played through Todd Gurley. They could potentially draft his replacement here, but I think it's a better pick to get a very good tight end instead. With nobody on the roster at tight end who defenses would give any respect to, Otton would immediately add a new dynamic to this offense. He can do a bit of everything, excelling as both a blocker and a receiver. They could split him out wide on passing plays and have just as much success as they would putting him on the line with a hand in the dirt. He would immediately help take this run game even further and would provide some kind of assistance for the young quarterback, Micale Cunningham. You can never have too many receiving threats, and I think Atlanta needs to continue to build around their young quarterback if they want to see him succeed.
Greens pick: Garret Wilson, Wide Receiver, Ohio State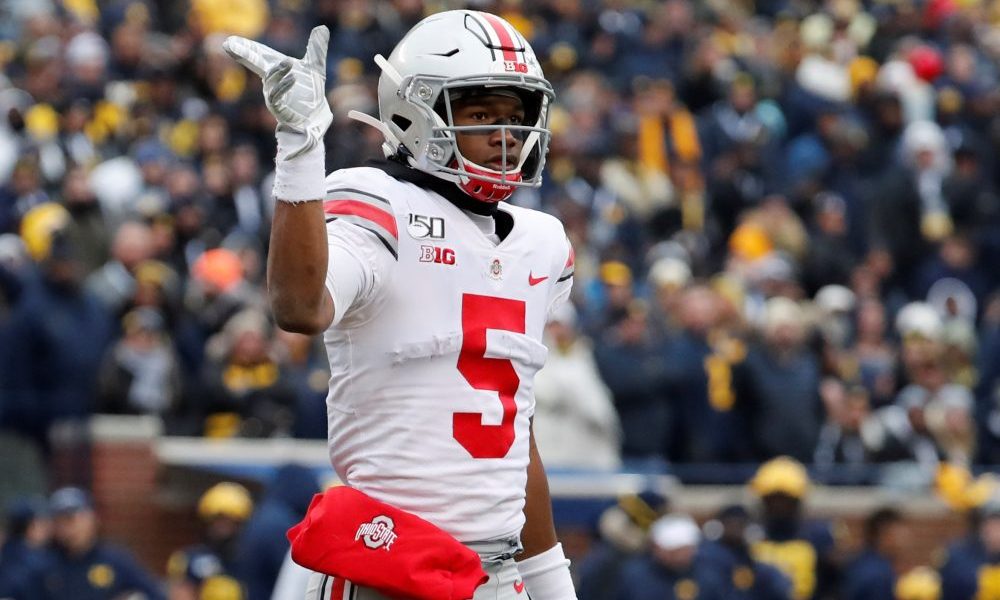 The Falcons have a potent stable of wide receivers, but this has more to do with age than anything. Julio Jones is a future Hall of Fame player, but he's reaching the end of his career. Wilson will team up with Calvin Ridley to give the Falcons another dynamic duo for years to come. Wilson doesn't have the big body Julio has, but he plays bigger than his size due to his athleticism. He is a polished route runner, who will benefit from having Julio and Ridley take the main focus of defenders. He also has above-average speed and top end acceleration off the line. The Falcons took a step back this year, and opening up the offense a bit more will help them on their quest for a division crown.