Now, we are going to see the contenders from last season make their draft picks. Most of these teams fell just short of their goals and are within reach of conference championship contention. It's harder to draft a great player this late in the draft, but the best General Managers and coaches make it work. This range takes more effort and focus when scouting prospects, as well as a good understanding of their team's needs. Here, we will see the good stay good, and the one-year-wonders fall off.
21. Atlanta Falcons
Bacon's pick: Zach Harrison, Edge Rusher, Ohio State
The Falcons have a wealth of picks and need to use them all to beef up their defense who ranked near the bottom in every category. They only had one player get to the quarterback four times– Dante Fowler had ten sacks. Looking at their defensive statistics, it looks like they couldn't stop anyone. Harrison comes from a school that may as well be an NFL factory and will be able to bring in a championship mindset and hopefully help change the culture for a franchise that has fallen from grace ever since being up 28-3 in the Super Bowl. As we all know, a dominant edge rusher can completely change the fabric of a game. Look at Von Miller during the Broncos Super Bowl run a few years ago. He essentially carried the team on his back on his way to a Super Bowl MVP award. Harrison may not be Von Miller, but he is a very good player who would drastically improve this struggling front seven. With a very well rounded skill set, he can create havoc in the run game better than just about anyone in this class. He will be a pivotal part of helping the Falcons improve on their abysmal defensive rankings from a year ago and will be part of a franchise-altering draft class.
Greens pick: Kenyon Green, Offensive Guard. Texas A&M
The Falcons with yet another first-rounder, this time from a trade with the Pittsburgh Steelers get to load up again on young talent. With a wide receiver and corner taken already they now turn to the offensive line. 
Kenyon Green will be able to step in on day one and provide an immediate impact for the Falcons. He is a devastating lead blocker, especially while pulling from the guard position. Plays with great leverage and gets to the second level with ease. His limitations with pass blocking will prevent him from sliding outside to tackle, but with work, his pass blocking will improve. His strength comes from his lower body and sometimes gets too high which leads to sloppy pass blocking, which can be a simple fix with the right coaching. The Falcons will now have added a weapon to throw to, as well as someone to block for their young franchise quarterback. Look for the falcons to make strides these next two years with these pieces.
22. Chicago Bears
Bacon's pick: Anthony Schwartz, Wide Receiver, Auburn
In my opinion, Schwartz is the Tyreek Hill of college football. He may not be as talented as a true wide receiver, but he is one of the scariest offensive weapons in the country. Auburn moved him all over the field, using him on deep routes as well as short plays that allowed him to get into space. Simply put, he has been the fastest player in college football for the past few seasons. Though Auburn hasn't had a very pass-heavy offense, he has still struck fear in defense, seemingly scoring a long touchdown every time he touches the ball. He may take a bit more time than other receivers in this class to develop, but he has by far the most potential. The Bears have some of the most talented possession receivers in the league, but only have one with greater than 90 speed. Because of this, defenses are able to play up and key in on their running game. Scraping into the playoffs, the Bears' lack of speed on offense led to them running into a brick wall against the Washington Football Team. They couldn't get anything going through the air and Washington keyed in on the running game, leading to a 39-21 loss for the Bears. Not having anyone to keep defenses honest may have worked well enough in the regular season, but Chicago won't be able to go as far in the postseason as they would like until they can build a more explosive offensive attack. Coach Noble can do a great job scheming up plays for Schwartz and I think this pick would work out very well for the Bears, hopefully putting them in NFC North title contention.
Greens pick: Bubba Bolden, Strong Safety, Miami
The Bears need another wide receiver but target the defensive side of the ball here. Bubba will bring another level to an already solid defense. Bubba has a terrific blend of size, length, athleticism, and physicality. He is a secure, wrap up tackler that hunts for the ball carrier. Will quickly trigger downhill and fill the hole. Has a ton of reps blitzing, showcasing good timing, effort, and closing burst. Has good range to cover in space. He adds another layer to his game as he is a special teams stud. He has blocked multiple punts in his career and is willing to chase down returners. Standing at 6'3 he has the size to match up with tight ends but has the speed and hips to run with wide receivers in space. The Bears will love deploying him all over the field. 
23. Tennessee Titans
Bacon's pick: Daniel Faalele, Offensive Tackle, Minnesota
Greeny and I agree on the position the Titans need to take but disagree on who. Tennessee is a team that is going to run the ball 40 times a game and absolutely demoralize your defense. Derrick Henry is going to run for at least 100 yards no matter what you do, and Aaron Rodgers is going to continually make plays. Since they are such serious contenders, they are in a very good position to focus on building a strength, rather than trying to reach for a need. They were able to play a safe ball control offense that didn't put up any gaudy stats but won them a lot of games. If they can take this same offensive approach but be even more efficient with their positions, this team can be truly scary.
There is no bigger player in this draft class than the former Minnesota Golden Gopher. Standing at 6'9" and weighing 400 pounds, he is the mountain. He would fit perfectly into this offense that thrives on imposing their will upon their opponents. He can't move as quickly as others due to his size, but he would be a great blocker for this offensive scheme that is all about downhill running. Imagine how scary it would be to be a defender lined up against Faalale with Derrick Henry running behind him. We may some guys pull a Vontae Davis and retire at halftime if Faalele falls to the Titans.
Greens pick: Christian Darrisaw, Left Tackle, Virginia Tech
The Titans are coming off an Afc South crown, and a 12-4 record. They are bringing back mostly the same team and have few holes on the roster. One of the more pressing needs is addressing the offensive line to protect Aaron Rodgers and open holes for perennial pro-bowler Derrick Henry. Darrisaw is a four-year starter who has plenty of experience the team is looking for as they need someone to step into the right tackle role right away. Christian has flown up draft boards recently as his play excelled this year. The eye-popping trait for Darrisaw is how well he moves for such a big tackle. You can regularly see him 10-20 yards downfield finishing blocks. He is excellent in the screen game as he has first-step quickness to ensure he gets the block. He has a high motor and plays with intensity all 60 minutes, he will need that motor to keep churning out blocks in the 4th quarter for Derrick Henry, The Titans will love how he mauls people in the run game. They will need him to play beyond his years as they look to repeat as AFC South champs. 
24. Denver Broncos
Bacon's pick: Desmond Ridder, Quarterback, Cincinnati
Was Tanner Morgan a one-game wonder? Is Drew Lock the quarterback of the future? I'm not sure what the answer is to either of those questions, but I do know that neither of them is going to stop a team from looking for a better option. Ridder has been able to bring a relatively unknown program like Cincinnati into the national spotlight with his elite play. Behind his leadership, the Bearcats wound up in the playoff conversation this year. He is a solid athlete with great instincts and a very good arm. Ranking 28th in the league in total offense, Denver needs all the help it can get. They have a stable of running backs who can all get it done on the ground and have some of the most explosive young receivers in the league. They've built a solid offensive line as well, setting up a very favorable situation for a rookie quarterback. Maybe they stick with one of the guys already on the roster, but the potential reward is so great that I think this pick is worth the risk. 
Greens pick: Marco Wilson, CornerBack, Florida
The Broncos have made noise recently with multiple trades and have holes to fill because of them. While trading away two elite pass rushers the Broncos will need to sure up the back end of their secondary as getting to the quarterback may be an issue this year. Marco Wilson is an amazing man to man corner, who fits well schematically with Denver. His combine performance will determine if he fits into the back end of the first round, or slides to the second. He has all the skills to be a first-round corner, but showed a few mental lapses in college and will need to test well to ensure he maintains his status as a first-rounder. He is a ball hawk who times his breaks on the ball extremely well. In the division, there are many elite wide receivers and he will have his hands full getting acclimated to the pros. 
25. Houston Texans
Bacon's pick: Zacch Pickens, Defensive Tackle, South Carolina
Last season, the Texans didn't have much of a pass rusher. JJ Watt is getting up there in age and the rest of their defensive line is pretty weak. They also don't have a true run stopper up the middle. Pickens would immediately fill both roles. He has elite quickness when it comes to rushing the passer and is athletic enough to chase down quarterbacks. He is also strong enough to throw blockers out of his way and stop a runner. Despite their current talent level, the Texans were able to have a top ten rushing defense last season, but that may have only been because their passing defense was so bad that teams just didn't need to run against them. One of those numbers is bound to change. Zacch Pickens is a very good defensive tackle who would improve this defense in every aspect from day one.
Greens pick: Cade Otton, Tight End, Washington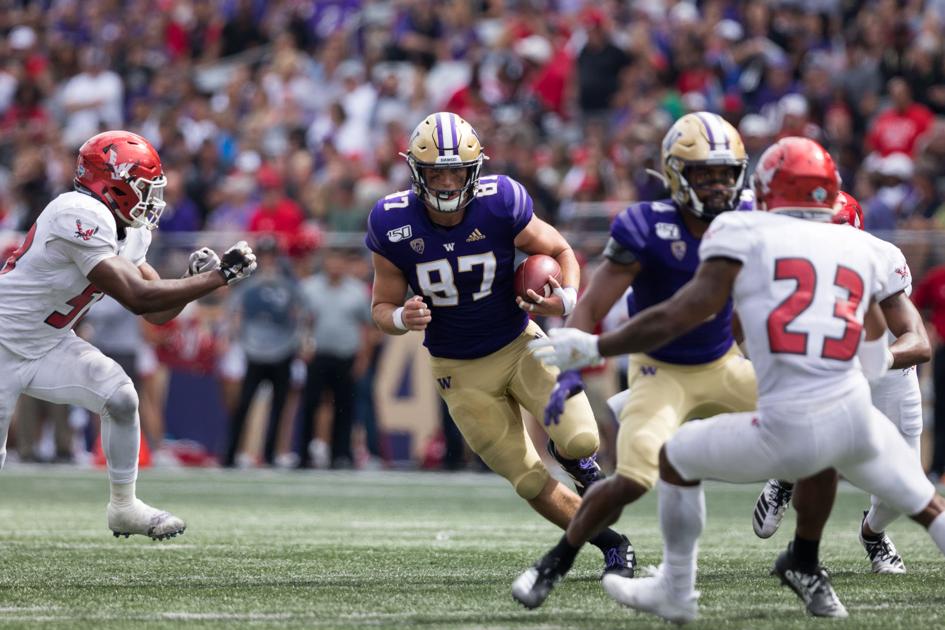 Houston has a very deep team from top to bottom and hit on some key picks last year. They also just picked up Bradley Chubb which was a huge addition for them. 
On the offensive side, they have Qb, Rb, and Wr set up for now and the future. Here we add a safety valve for Deshaun Watson in a solid tight end Cade Otton. At 6'5 245 lbs, he has the ideal height and weight for the position. He is an aggressive blocker in the run and pass game, which will help fortify the ground game for MVP running back Hawkins. He is known as a "bruising" blocker, who is not the most athletically gifted. He will still run a sub 4.8 40 and has amazing hands. He won't be breaking any 90-yard touchdown runs, but he will be a third-down threat for the team for years to come. 
26. Philadelphia Eagles
Bacon's pick: George Karlaftis, Defensive End, Purdue
The Eagles have a very good defensive roster, so they are in a position to just pick the best player available. Karlaftis is a bit of a "tweener" as a defensive end. He could be a big edge rusher or a quick interior guy. His versatility would allow him to see the field early since they don't have a big need for a defensive lineman. They have a few aging veterans he could play behind for a year or two as he develops into a good player. It's not a glamorous pick, but a good one for building depth. 
Greens pick: Harry Miller, Center, Ohio State
The Eagles possess one of the best ground games in the league and add to it here. Miller might be the most devastating run blocker in this year's draft. He routinely finishes his blocks downfield and sometimes past the whistle. He makes his presence known on the field. He will need to continue to work on his pass blocking footwork at the next level to become a more complete lineman. He has some experience at tackle as well which will give the Eagles position flexibility which is always a huge plus.