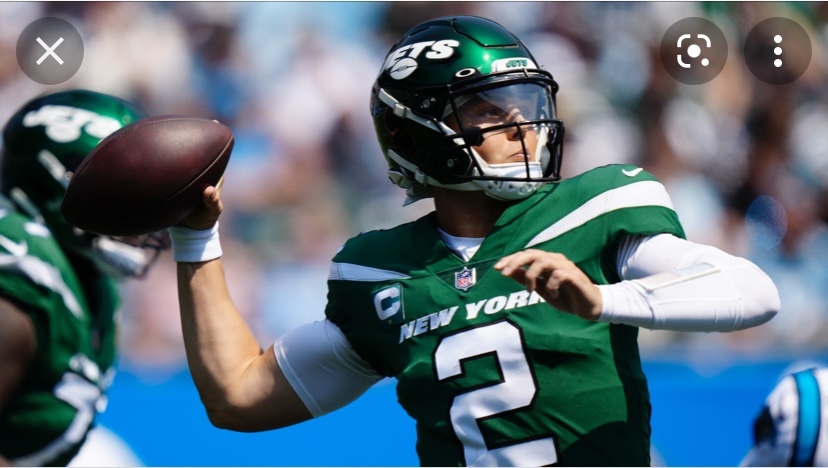 Stock Up, Stock Down on 2021 Rookie QB's
We are now 2 games into the 2021 PML season and while it's a small sample size it's enough for us to start submitting stock reports on notable rookie signal callers. Even though there is a a lot of football left to be played, it is something that the stock risers should be excited for and what the future holds. For stock fallers it's time to identify the problem areas and how to swing things back in the opposite direction.
For those QB's who are trending downward, they can rebound quickly if they put in the extra work with their offensive coordinators in practice, as well as in the film room identifying mistakes made in previous contests. Those Qb's who are risers, it's not time to put it in cruise control just yet. Opponents will adjust and the likeliness of growing pains still very much exist. But as of right now, let's take a look at there notable rookies and how their inaugural campaign is trending.

Stock Up
Zach Wilson QB New York Jets. (2-0)
18-31. 395 Yards 4 TD 1 INT
Not many people knew what to expect coming into the 2021 season out of Wilson from BYU. The consensus on Wilson was big arm, very athletic but wasn't battle tested in the collegiate ranks. Wilson has found a home in East Rutherford joining new head coach Arod who comes over from the Cincinnati Bengals where he had minimal success with quarterbacks. Thus far it has been quite the opposite. Coach Arod is a run first head coach who prefers a game manager under center and so far this season he looks like he found his guy. Week 1 saw Wilson go on the road to Carolina and knock off the Panthers completing 8-14 passes for 3 scores and 1 Int. Week 2 the Jets got a visit from division rival New England Patriots and it was more of the same, a clean 10-17 212 yards 1 TD 0 Int performance in a 34-20. Although the numbers don't pop off the screen he is showing poise and moxie in the pocket and hopefully this will lead to the boys in green making some noise in the AFC East.
Davis Mills QB Houston Texans (1-1)
41-56 580 Yards 3 TD 1 INT
Mills the least touted prospect of this bunch has been pushed into action early in his career due to the uncertainty with the legal issues surrounding Deshaun Watson. The youngster out of Stanford couldn't of found a more perfect home to develop. Mills links up with coach Cookieboy who is known as pass happy quarterback guru. Cookieboy packed his bags for the Lone Star State after a successful run up in the Motor City with the Detroit Lions. While in Detroit he broke many passing records with another youngster under center in DJ Uiagalelei. He hopes to find the same success with the former Stanford Cardinal. Week 1 was an average performance for Mills as he completed 21-30 for 1 score and 263 yards in a loss to division foe Jacksonville Jaguars. Week 2 in a trip to the Dawg Pound in Cleveland he was nearly perfect completing 20-26 for 2 scores in a 34-26 road victory. I expect Mills to continue to grow during the course of the season as he becomes more comfortable within coach Cookieboy explosive offense.
Trey Lance QB San Francisco 49ers (1-1)
9-10 169 Yards 1 TD 0 INT
One of the biggest mysteries on draft night was who the 49ers would be selecting with the 3rd Overall pick. Many people speculated it would be Mac Jones out of Alabama, but we're thrown a huge curveball when the 49ers were on the clock. The team from the bay opted to pick the Quarterback Lance out of the not so household named school North Dakota State. In the little tape that was seen of Lance in college, he displayed world class athletic ability and arm strength. Lance is teaming up with coach AntDawg the gamer who has some previous experience dealing with a young quarterback from his time as coach of the Atlanta Falcons with Micale Cunningham. The big question mark for Lance is how he will fit in this season with veteran Jimmy Garappolo still under contract. Week 1 Lance played mop up duty in a 48-34 win over the Detroit Lions completing 2-2 attempts for 32 Yards. In week 2 he saw extended playing time as the 49ers fell behind big early and never recovered in a 49-28 loss on the road to the Philadelphia Eagles. Lance was impressive completing 7-8 passes for 137 Yards and 1 TD, giving the 49ers something to consider in the weeks to come.
Trevor Lawrence QB Jacksonville Jags (1-0)
22-33 237 Yards 3 TD 2 INT
The Jaguars had their pick of the litter in the 2021 draft and they went with "sunshine" out of Clemson University. The fit of Lawrence in the newly hired head coach T-Bandit offense couldn't of been a more perfect one. In the head coaches previous job, we saw him develop Dwayne Haskins into one of the elite passers in the PML. Lawrence skill set is light years ahead of Haskins, so we can expect big things in Jacksonville. Week 1 we saw the Jags new QB go on the road to face the Houston Texans in a tough divisional matchup. The rookie showed poise in the hostile environment throwing for 3 scores and over 230 yards in a 27-10 victory. Jags fans are buzzing as they feel they have finally found their franchise quarterback after several swing and misses.

Stock Down
Justin Fields QB Chicago Bears (1-1)
18-32 287 Yards 2 TD 7 INT
The quarterback position has been a glaring weakness for the fans in the Windy City of Chicago for years. Draft night expectations were sky high when the Bears made the move to trade up to snag Fields with the 11th Overall selection. The Bears Qb room was an interesting one to monitor this off-season as they brought in veteran Andy Dalton to be the starter. Fields and Dalton are two quarterbacks with different skill sets which made the signing and drafting head scratchers. Coach LQ Noble had his contract renewed with the Bears even after very below average cycle. Coach LQ tried his luck last cycle with another rookie under center in Zach Wilson in which he showed flashes of success but overall it was a below average tenure in Chi town for Wilson. Fields has a similar skill set to Wilson, so will it be more of the same results? So far it looks that way. Week 1 Fields completed as many passes as interceptions 6, in a 38-7 road loss to the Los Angeles Rams. Week 2 he was significantly better as he completed 12-17 passes for 2 scores and it resulted in a Bears victory. We need to see more consistency from such a highly touted prospect. Let's see if he can turn it around in the upcoming weeks.
Mac Jones QB New England Patriots (0-2)
38-62 511 Yards 1 TD 6 INT
The fans in Foxboro were spoiled for nearly 2 decades with future Hall of Fame QB Tom Brady leading the club to 6 Super Bowls in his tenure. The search for his successor started in the 2021 draft with the selection of National Champion and Heisman finalist Mac Jones out of Alabama. Coach Wumbo comes over to New England after a brief stint in Baltimore where he worked with Lamar Jackson. Wumbo had some success with Jackson but the skill sets are night and day with Jones. Jackson a versatile dual threat, while Jones a pocket passer. Thus far it has been a struggle for Jones dropping 2 games to divisional opponents in convincing fashion. Week 1 it was the Dolphins steamrolling the Pats 41-14 with Jones completing 16-29 for 0 TD and 4 INT. Week 2 vs the Jets we saw some improvement in decision making as he completed 22-33 for 1 TD and 2 INT. If Jones plans on being a starter in this league the decision making must improve, and it must improve fast or the fans of Foxboro will be calling for his job in the local papers.