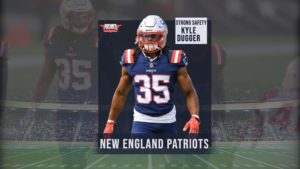 Kyle Dugger did not start on his high school football team until his freshman year. Lenoir-Rhyne, an NCAA Division II school in North Carolina, was one of 3 schools to offer him, along with Division III member Berry College and NAIA member Reinhardt University. Dugger redshirted his first year and immediately made an impact as a starter in his redshirt freshman year.  During that season he played corner but switched to safety the following year. Dugger continued to be dominate everywhere on the field, even returning two punts for touchdowns within a 7-minute span his senior year. Dugger was awarded the Cliff Harris award in 2019 given to the best small-school defensive player. He also participated in the 2020 Senior Bowl where scouts praised his field instincts. Scouts praised Dugger for his speed on the field, projecting him at either safety, corner or returner in the NFL.
Dugger was selected by the Patriots with the 37th pick in the second round of the 2020 NFL Draft. He was the first player chosen outside Division 1 FBS. The selection was subject to much criticism with Dugger already being 24 and coming from a DII school. While his stats aren't jumping off the page, Dugger has made an impact on the Patriots roster from day one. In Week 6 of the 2021 NFL season, he recorded his first career interception against the Dallas Cowboys. He followed up this performance with his second career interception a week later against the New York Jets.
Coach Wumbo has been very focal about Dugger and what he brings to the team. Look for him to spend a lot of time moving in and out of the box due to his big frame and speed. He is a great hybrid safety who will get plenty of use for years to come. The only question is, how much more will he develop.