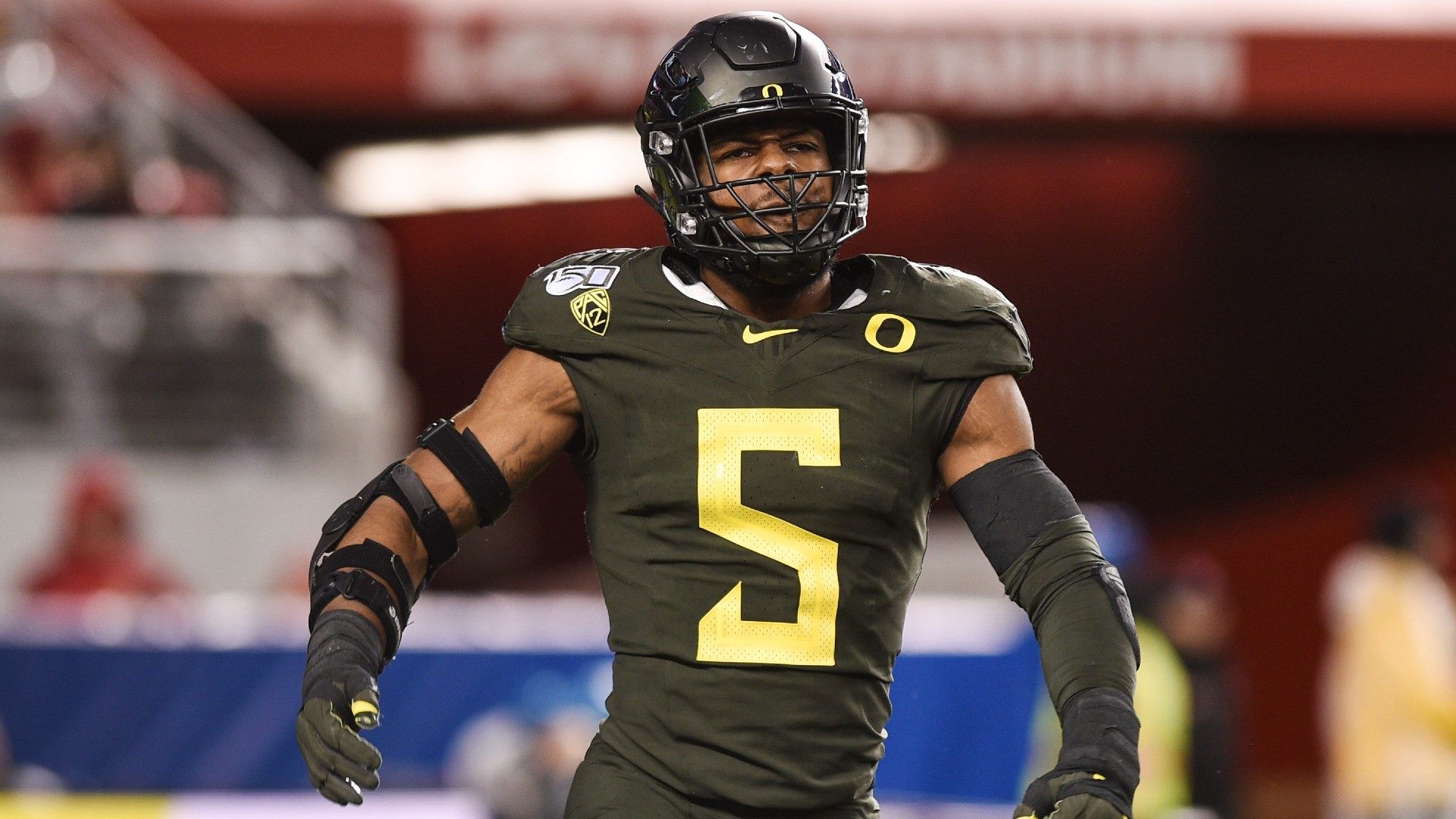 We are four weeks into the season and with the new scouting update that Madden created, there are a total of five mock drafts that get updated throughout the season as players rise and fall. Through the first four weeks of the season there have been several players rising and falling. The biggest difference between this year's draft class is the search for the best quarterback in the class. There will be players hearing their names earlier than most would expect based upon team needs but here is an early season mock draft of potential moves that could happen in PML on draft night.
Madden Predicted Mock Draft – 
1. New York Giants – LT Evan Neal
2. New England Patriots – RE Kayvon Thibodeaux
3. Cincinnati Bengals – CB Derek Stingley Jr
4. Baltimore Ravens – LOLB Drake Jackson
5. Pittsburgh Steelers – QB Malik Willis
6. Houston Texans – DT Demarvin Leal
7. Arizona Cardinals – RG Kenyon Green
8. Cleveland Browns – QB Carson Strong
9. New Orleans Saints – FS Kyle Hamilton
10. Detroit Lions – CB Andrew Booth Jr
Fallen's Predicted Mock Draft – 
1. Pittsburgh Steelers – Kayvon Thibodeaux, DE, Oregon
The Steelers could go in several directions with this selection, but I can't see how they could pass up the best player in the draft. Stephon Tuitt and Cameron Heyward are getting up there in age, but they could ask Heyward to move inside, and they could replace him with Kayvon Thibodeaux. The Steelers have also been flirting with the idea of moving on from star outside linebacker T.J. Watt, so drafting a potential superstar defensive end would make that transition that much easier. The Steelers could seek to replace Ben Roethlisberger in the draft, but without a guaranteed star studded quarterback at the top of the class, Thibodeaux is the safest selection for them.
2. Arizona Cardinals – Derek Stingley Jr, CB, LSU
The Cardinals need to get faster at the corner position and with their selection of Derek Stingley, he will immediately become the best corner on their roster. Byron Murphy is a perfect slot corner, but his lack of speed inhibits him from covering the elite wide receivers in PML. Stingley will be able to step in and play outside and inside. His elite agility and acceleration allow him to break up passes even after being beaten.
3. Carolina Panthers – Malik Willis, QB, Liberty
The Panthers traded for Sam Darnold to start the season with the hope that the 23 year old would be the teams' franchise quarterback for the future. Coach JT decided to sign Cam Newton after he was released by the New England Patriots. Newton won the starting job over Darnold, but the Panthers are still struggling to win. Malik Willis has been flying up draft boards and he is considered the best quarterback in this class. He is considered to have great to elite physical attributes in all categories. Scouts are admiring his throwing motion and the spiral that he has on his passes. Willis could be spark that Coach JT needs to turn his cycle around much like he did in season 5 last cycle.
4. Baltimore Ravens – Evan Neal, LT, Alabama
The Baltimore Ravens have been using a makeshift offensive line due to all the injuries that have hit them in the off-season. Ronnie Stanley is one of the best offensive tackles in the game but outside of him, the offensive line for the Ravens is aging. Neal has elite change of direction and has solid physical attributes. He is 21 years old, 6'7", and weighs 361 pounds. He has a history of injuries but with the right training staff, Neal can develop into a pro bowl pass blocker. If the Ravens do select Neal, I expect them to move him over to the right side opposite of Stanley.
5. Cleveland Browns – Drake Jackson, LOLB, USC
The Cleveland Browns are another team that could address different positions at this spot. Coach HD has been frustrated with the play of Baker Mayfield this season and there have been trude rumors swirling. I think the Browns will give Mayfield another shot and they will address the linebacker position with the selection of Jackson. He is on the rise on multiple analysts' big boards. Jackson is a speciality player who can rush the passer and cover tightends and running backs. Jackson has elite speed, strength, and acceleration. He uses his strength to his advantage and often seeks the big hit when playing in space. His lack of ball skills can be fixed with the right coaching, but pairing him with Garrett coming off the edge will give Clelvand the tandem they were hoping for when they brought in Jadeveon Clowney.
6. New York Jets (from Seattle Seahawks) – Kenyon Green, RG, Texas A&M
The Jets are in prime position to select in the top ten this season since the Seattle Seahawks are struggling this season in the PML. The Jets have addressed the offensive line in multiple drafts with Becton and Vera-Tucker but their right side is in desperate need of attention. Green has elite level speed, agility, acceleration, and change of direction for an offensive linemen. His raw talent is one of the best in the draft class. In a league where you'll be facing off against elite pass rushers every play, Green will be able to hold his own and he has been coveted for his lack of penalties committed throughout his collegiate career.
7. New England Patriots – Garrett Wilson, WR, Ohio State
Garrett Wilson is considered to be the best wide receiver in the draft class. His physical attributes are among the best in the class and he should be one of the fattest receivers in the class. His catching prowess is highly coveted and on tape you can see his resilience. He will go up and fight for the ball in mid air, control his body, and put himself in a position to fight for yards after the catch. The New England Patriots have been on the trade block scouring from a dominant wide receiver. If their season continues to spiral, I can see them being the first team to address this position, well that is if they get their QB1 prior to the draft. Patriot ownership has been unhappy with Mac Jones, but can their first round pick redeem himself with 13 games left in the season? Time will tell.
8. New Orleans Saints – Matt Corral, QB, Ole Miss
The New Orleans Saints should have been better prepared for the retirement of Drew Brees. Jameis Winston and Taysum Hill are not franchise quarterbacks and I see them addressing the position with this pick. Corral has fallen since the beginning of the season. He was expected to be the best quarterback in the class, but he is still a top 15 player in this class. There isn't any physical attributes that will 'WOW' you about Corral, but he does have your prototypical throwing motion. He will take risks at times, but he is an intelligent passer and knows when to throw the ball away. He's not a guy that will cost you games and with the right coaching, he can be the guy to win you games late in the fourth quarter.
9. New York Giants – Demarvin Leal, D, Texas A&M
The Texas A&M product Leal has been rising on the big board. Analysts have speculated that he could be one of the best players in this entire class. The Giants have a lot of needs to address in the off-season especially at the RT position, but I think Coach Burn is going to draft based on the best player available as opposed to what his team needs. Leal would fit a need for the team though. Danny Shelton is the teams' starting DT and he hasn't been able to produce much this season. Geno Atkins was brought in to sure up the defensive line, but he is 33 years old. I can't see the Giants re-signing him. Leal would come in as a starter. He has prototypical size and strength for the position. His knack for the ball has helped him lead Texas A&M in strip fumbles this season.
10. Detroit Lions – Desmond Ridder, QB, Cincinnati
The Detroit Lions acquired Jared Goff in the off-season and after three games this season traded him to the Washington Football Team. The Lions have the draft capital to rebuild their team and it has to start with the quarterback position. We have seen two quarterbacks come off the board already, but Desmond Ridder isn't a consolation prize. Ridder is on the rise since the start of the season and he possesses elite physical traits that help him escape the pocket. He is calculated with his passes and is calm in the pocket. He has a slow, elongated throwing motion and possesses solid throw power. Ridder rounds out the top 10, but keep a lookout on North Carolina quarterback Sam Howell as another option for the Lions. Howell is on the decline because of the losses that North Carolina has taken so far this season, but with elite throw power, it could be hard for the Lions to pass him up
Fallen's Best Players Available – 
RE Kayvon Thibodeaux
Oregon's Kayvon Thibodeaux is highly considered as the best player available by multiple teams in this upcoming draft. Since 2006 there have only been three defensive ends selected with the first pick of the draft; Mario Williams, Jadeveon Clowney, and Myles Garrett. All three of these players went on to be selected to the pro bowl within their first two season in the NFL. Thibodeaux is 21 years old and has a 6'5″ 258 pound body frame with elite physical skills in all categories. He has world class speed for the position and prefers to use his speed-to-power bull rush blockers. Scouts have knocked his strength, suggesting that it's not elite and when winded he has gotten overpowered in past games. This had led to him getting frustrated and to physical with blockers resulting in a higher amount of penalties being called against him. If the right team selects Thibodeaux, they will be able to help him get stronger and more disciplined as the game goes on.
CB Derek Stingley Jr
LT Evan Neal
QB Malik Willis
RG Kenyon Green
FS Kyle Hamilton
LOLB Drake Jackson
CB Kaiir Elam
DT Demarvin Leal
C Tyler Linderbaum
Players on the Rise –
Malik Willis, QB, Liberty
Tyler Linderbaum, DT, Iowa
Jordan Davis, DT, Georgia
Kenyon Green, RG, Texas A&M
Treylon Burks, WR, Arkansas
Players that are Falling –
Kyle Hamilton, FS, Notre Dame
Matt Corral, QB, Ole Miss
Trent McDuffie, CB, Washington
Breece Hall, CB, Iowa State
Christian Harris, MLB, Alabama