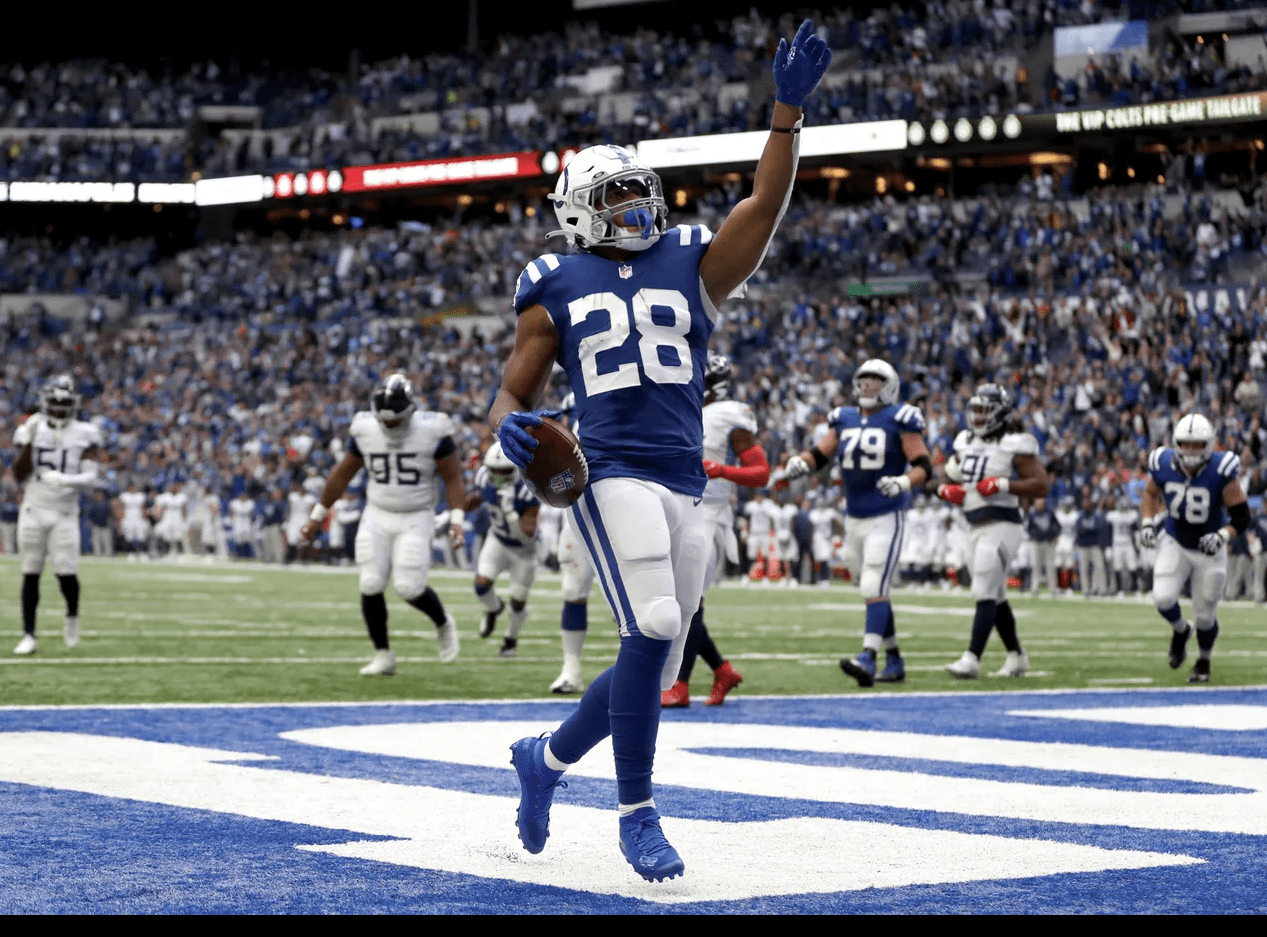 1. Indianapolis Colts (8-0) – Mole continues his dominance beating every opponent by 2 scores through 8 games. No one has found the formula to beat him yet… Will the formula ever be found?
2. Tennessee Titans (6-2) – Wimmy has shined so far in his second cycle beating 2 top 5 coaches and only losing to the #1 coach in the power rankings. While a few of his games have been nail-biters, as long as King Henry can walk, Wimmy will win.
3. Green Bay Packers (8-0) – Jefe is coasting at 8-0 but with a light schedule thus far, he needs to face some formidable opponents before we consider him at 1 or 2.
4. Kansas City Chiefs (6-2) – Greeny has played well so far, but can he stay atop the AFC West with a tough 6 game stretch coming up.
5. Buffalo Bills (5-2) – Bubba and his boy Josh Allen have looked dominant so far only losing to #2 and #4, we see them clinching a division title in the next 5 weeks.
6. Detroit Lions (6-2) – After an 0-2 start and a qb change that involves Trace Mcsorely taking the reins, Hypemike has found his groove pulling off 6 in a row looking dangerous as ever.
7. Las Vegas Raiders (5-2) – Dlloyd looks good so far and will be a threat all cycle. With no wins over teams with + .500 records, he can't be in the top 5 just yet.
8. Dallas Cowboys (5-2) – CEO is looking good running it back with his squad at 5-2 so far. While his wins could have easily been losses, wins are wins.
9. Los Angeles Rams (5-3) – Que has been solid so far and will coast to a division title if he can pull through this tough upcoming 5 game stretch.
10. Jacksonville Jaguars (4-3) – After starting 4-0 the jags have dropped 3 straight, they must get back on track quickly before playoffs are out of reach.
11. Minnesota Vikings (5-2) – JP has always been a solid user and has the Vikings off to a hot start. He is out of the top 10 because all of his wins are to under .500 teams and all the losses came to + .500 teams.
12. Houston Texans (5-3) – Cook has flown under the radar with these Texans but after this upcoming 5 game stretch, we will know if the Texans are a threat in the AFC.
13. Denver Broncos (5-3) – Kmac is a new user with questionable gameplanning/execution. He's a tough opponent and only getting better after an 0-2 start. Someone needs to figure him out before it is too late.
14. Miami Dolphins (4-4) – Fallen has been a slept on coach this cycle, while he has 4 L's, they've all come against top 10 teams.
15. New York Jets (4-3) – Arod has performed well with an awful roster in some spots. It doesn't help that Buffalo is having quite the season. Wild card spots are going to be slim pickings in the AFC. The Jets need to fill their roster gaps or call it a season.
16. Atlanta Falcons (4-3) – Vet has been a surprise so far with this average roster. Sitting at 4-3 with 3 wins over the Nfc East, it is safe to say that the playoffs aren't that far out of their vision.
17. Chicago Bears (4-4) – Noble is a solid coach that is in quite the slump. If he can prevent comebacks like he allowed the 49ers to do, then he has a possible 7 seed appearance.
18. Cleveland Browns (4-4) – After starting 0-4, the Browns have won 4 in a row. While some say he's pulled out his Velvetta, dubs are dubs. It is him vs the Ravens for this division race.
19. Washington Football Team (3-5) – Mike started out 2-0 while losing 4 out of 5 since. With a favorable schedule coming up, he may gain some ground on CEO and lock up a wild card spot.
20. Los Angeles Chargers (2-5) – Z has struggled through 6 games, but there's no doubt he gets back on track. With the AFC West being so competitive and falling to 2-5 this week, playoff hopes are dwindling.
21. San Franscisco 49ers (3-4) – Ant is a tough player, but his inconsistency will prevent him from competing. A nail-biter win in the last week shows promise, but we need to see a blowout to believe in him.
22. Seattle Seahawks (3-5) – Drama started 0-5, but has won 3 in a row. Once he gets Bobby Wagner back up to par, expect to see the wins stack up higher.
23. New York Giants (3-5) – Burn has struggled in 2021. He will need to step up to the plate in order to run away with this closely contested NFC East.
24. Tampa Bay Buccaneers (3-5) – Mali is a solid coach in a winnable division. It will come down to the next few weeks to determine if he has a playoff appearance.
25. Baltimore Ravens (2-5) – This new Ravens coach has given the team life with a solid performance vs Mole, a close win vs Z, and a blowout win over King Ke. We haven't seen enough from Baltimore to reasonably move them into the top 20.
26. New England Patriots (2-6) – Rumors have it this new guy is pretty nice but can he turn around the dumpster fire left by Wumbo? With rookie Mac Jones, we can't reasonably have them out of the bottom two until we see something. He took down Z, but Z isn't looking like a top dog at this time.
27. Philadelphia Eagles (2-6) – Curt is a good coach, but his inconsistency will keep him out of contention if an NFC East team takes off.
28. Cincinnati Bengals (2-6) – King Ke has struggled with a few large losses in recent weeks. AFC North is up for grabs still, but the Bengals are slowly falling to the #3 spot in the division.
29. New Orleans Saints (2-5) – Cammy hasn't played well so far. It helps that he's a coach that can turn it up vs better competition, which is quite limited in the Saints schedule so far.
30. Arizona Cardinals (1-7) – Goose is still getting back in the groove of madden and with a tough schedule coming up, we don't think his season improves.
31. Carolina Panthers (1-7) – Year 1 isn't always the best for JT but we all know he's good for about 3-4  upsets while he scouts his next franchise qb. The Steelers are the only ones in the way of his #1 pick.
32. Pittsburgh Steelers (0-7) – Nef has struggled through 7 games and i've heard rumors he's contacted Mark Willis to start looking for houses in Pittsburgh. While his division is still up for grabs, we are approaching the point where Nef must pick- try for the win? Or tank for the franchise QB?