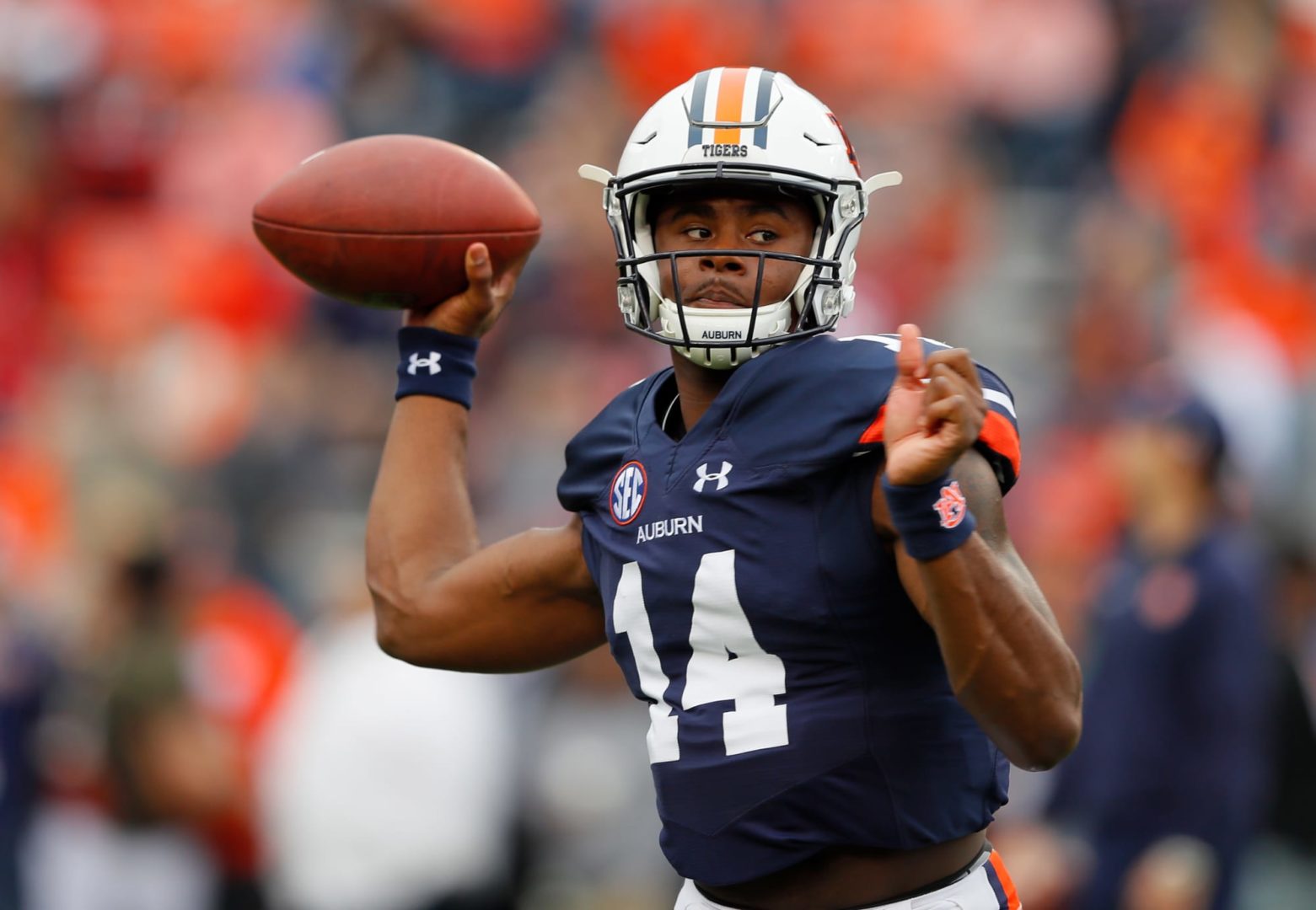 We are ten weeks into the season and with the new scouting update that Madden created, there are a total of five mock drafts that get updated throughout the season as players rise and fall. Through the first ten weeks of the season there have been several players rising and falling. The biggest difference between this year's draft class is the search for the best quarterback in the class. There will be players hearing their names earlier than most would expect based upon team needs but here is an early season mock draft of potential moves that could happen in PML on draft night. 
Maddens Predicted Mock Draft –
1. Pittsburgh Steelers – Devonte Lee, HB, Nevada
2. New York Jets (Through Seattle) – Kayvon Thibodeaux, RE, Oregon
3. New England Patriots – Derek Stingley Jr, CB, LSU
4. Baltimore Ravens – Drake Jackson, LOLB, USC
5. Cincinnati Bengals – Kyle Hamilton, FS, Notre Dame
6. Carolina Panthers- Evan Neal, LT, Alabama
7. Arizona Cardinals – RG Kenyon Green
8. New Orleans Saints – Demarvin Leal, DT, Texas A&M
9. Los Angeles Chargers – Malik Willis, QB, Liberty
10. Cleveland Browns – Jordan Davis, DT, Georgia
Devonte Lee is a prospect that is not expected to be drafted but he is getting a lot of love from scouts recently. His weight at 240 pounds allows him to fight for every inch as a runner, but he has lapses of concentration in his vision at times. His awareness for the game is low, but he is exceptional in the pass game as a blocker and a pass catcher despite those lapses. I don't think he will be drafted in the first three rounds, but a team with multiple fourth round picks may take a flyer on him..
Fallens Predicted Mock Draft –
1. Pittsburgh Steelers – Malik Willis, QB, Liberty
The Steelers could go in several directions with this selection, but the trade deadline has passed and pass rusher T.J. Watt is still on the team. The Steelers were able to win their first game of the season last week, but they have to address the quarterback position. Ben Roethlisberger is approaching 40 years old and he is a shadow of his former self. Malik Willis will instantly make this team better, but ultimately it is up to Coach Nef to make the correct reads if he wants to develop Willis into the Superstar that on paper he looks to already be
2. Carolina Panthers – Kayvon Thibodeaux, RE, Oregon
The attempt to reignite the glory days in Carolina has been a failure halfway through the season. The Panthers had hopes that Cam Newton would be able to have the same success that he did when he led them to the Superbowl against the Broncos a few seasons ago. Draft positions could change as we approach the end of the season, but after seeing Malik Willis get one spot ahead of them, the Panthers will decide to take the best player in the draft. The Panthers can still address the quarterback position in the second round, but pairing Thibodeaux with Brian Burns coming off the edge will give this team a ferocious pass rushing tandem.
3. Washington Football Team (Through Arizona) – Evan Neal, LT, Alabama
The Washington Football Team traded away star defensive lineman Matthew Ioannidis and a second round pick for the Arizona Cardinals first round pick. The Cardinals were likely in position to draft defensive end Thibodeaux, but they decided to take the guaranteed value now. The Washington Football traded for QB Jared Goff earlier this season and while it is not a flashy pick, they have to protect their franchise quarterback and that starts by selecting the best offensive linemen in the draft. Evan Neal would come in as an instant starter and replace 29 year old Charles Leno Jr.
4. Houston Texans (Through Philadelphia) – Derek Stingley Jr, CB, LSU
The Philadelphia Eagles traded away their first round selection for QB Deshaun Watson and the Houston Texans inherited a chest of draft picks. Any selection that the Texans make with this pick is going to instantly make their team better, but how could they pass up on the best corner in the draft? Derek Stingley would come in as their fastest corner and likely beat out Desmond King as the team's number one corner. Stingley is a physical and lengthy corner who has had habits of punching the ball from ball carriers. Stingley has the speed and agility to play on the inside and the outside and will give the Texans an elite corner for the entire cycle.
5. Cincinnati Bengals – Drake Jackson, LOLB, USC
The Cincinnati Bengals are in one of the easier divisions in PML but unfortunately for them they haven't been able to beat anyone outside of their division. They are two games behind the division leader but their schedule doesn't get any easier the rest of the season and I expect more losses to pile up. The Bengals are very thin at linebacker and only have 5 linebackers on the roster at the moment. They haven't been able to get much pressure on opposing quarterbacks this season but all of that will change with the selection of Drake Jackson. He is a prototypical pass rusher that will use his speed to bull rush blockers. He has a high motor and is always looking to make the big play. He does struggle to find the ball in the air, but Coach Kingke can develop him to play better in space.
6. Tampa Bay Buccaneers – Matt Corral, QB, Ole Miss
The Tampa Bay Buccaneers have taken a huge step backwards from their championship win a season ago, but they have to prepare for Tom Brady's retirement. Tom Brady is under contract for another year, but at 44 years old, it's almost certain that he is going to heavily regress in the off-season. Matt Corral can be the same system player as Tom Brady. He has prototypical size for the position, decent speed, and good throw power. He is an accurate quarterback with a very fast throwing motion. Corral is on the rise because scouts are in love with how quick he can get the ball out of his hands. He is an intelligent player that has the ability to extend the play when needed. The Buccaneers have a core group on offense and this selection of Corral will make the transition from Brady easier in the coming seasons.
7. New Orleans Saints – Kenyon Green, RG, Texas A&M
The New Orleans Saints have not adjusted to life without Drew Brees and the team has a few holes that they could address but none is more important than resetting their offensive line. In the past few weeks, the Saints have traded away their best offensive linemen. These linemen were getting older and the Saints were able to get draft picks for them, but it doesn't help them unless they draft smartly. Kenyon Green is projected to be a top 5 selection, but he has fallen a bit due to the needs of the other teams in the top 5. Green has the size, speed, and ability to be an anchor on the offensive line. Scouts are in love with his ability in the run game. When you look at the tape, Green manhandles anyone in his way and has created huge gaps for his halfback to run into. The Saints would be making a huge mistake if Green falls and they pass on him.
8. New York Jets (Through Seattle) – Kaiir Elam, CB, Florida
The Jets could be in play for one of the two top offensive linemen if they fall, but in our mock draft, they are already taken. The Jets traded for OT Terron Armstead and have drafted two offensive linemen the past couple drafts, so addressing another position of need will help them with their rebuild. The Jets are very young at the corner position, but bringing in a guy like Elam will build on the tenacity of the other players on this team. Elam is a very physical defender. He has a knack for the ball, he will take the aggressive play and attempt to rip the ball out of any offensive player's hands and he isn;t afraid to step in front of a receiver if he thinks the ball is being thrown that way. Elam is a very smart player and is one of the best in the class when in zone coverage. He is a playmaker that will help the Jets elevate their team every game.
9. Los Angeles Chargers – Garrett Wilson, WR, Ohio State
The Los Angeles Chargers haven't had the success that most experts predicted they would have this season just yet, but they can still improve with 8 games left in the season. The Chargers are in a position here that they could draft based on need or they could go with the best player available. Justin Herbert is struggling this season and I think selecting a big and fast receiver to compliment Keenan Allen is exactly what Herbert needs to get out of his slump. Ohio State has produced the top two receiving prospects (Chris Olave and Garrett Wilson) in this years draft, but Wilson is a bit faster than Olave. Wilson would likely be one of the fastest players on their offense and he'd give Justin Herbert a big target who fights for every inch when the ball is in his hands.
10. New York Giants – Demarvin Leal, DT, Texas A&M
The Texas A&M product Leal has been rising on the big board. Analysts have speculated that he could be one of the best players in this entire class. The Giants have a lot of needs to address in the off-season especially at the RT position, but I think Coach Burn is going to draft based on the best player available as opposed to what his team needs. FS Kyle Hamilton could be in play at this pick, but the Giants have Jabrill Peppers and Xavier McKinney at the safety position already. Hamilton is a candidate to play the sub linebacker position, but drafting Leal would fit a need for the team. Danny Shelton is the teams' starting DT and he hasn't been able to produce much this season. Leal would come in as a starter. He has prototypical size and strength for the position. His knack for the ball has helped him lead Texas A&M in strip fumbles this season.